TL;DR: Decided to source most parts of my 3rd sport bike mostly from Chinese sellers on Aliexpress, also due to COVID shortages. Paid in total about 1,500 EUR for an "all-road", disc-braked, 2x11, deep carbon rims + tubeless tires and would call it a success.
More than 6 years ago, I started my Road bike riding with an entry level Road Bike (Alu, old 105). In this time, I rode about 17,000 km with this bike, learned a lot about riding outside and improved my endurance. Of course, when you spend such a lot of time (about 100 full days of time's worth), you optimize most components, and also change many parts due to attrition. But the general frame, a traditional (slightly too large), rim-braked, tubular rimed bike does not change. So, over that time, the wish grew to upgrade to more modern standards, such disc brakes, 11-speed and tubeless tires. Of course, in the previous 18 months, the component situation got worse and worse, at time of this writing, it is difficult to get full components with specifications, especially if you look for Shimano 105, Ultegra or GRX level. At the same time, I got more and more confident with ordering bike parts from China through Aliexpress. After watching a couple of videos from TraceVelo on YouTube, I decided to give it a try, as building up a bike is also a great learning opportunity!
My general requirement list was:
All-Road capabilities but also fast on tarmac (~35 cm)
Cool wheels, if possible Aero style deep rims, tubeless-ready
Aluminium frame - no worries for Carbon damages when dropping the bike or transporting on the car's roof
2x11 with compact
Handlebar with option for mounting an aerobar
disc brakes, but not necessarily hydraulic (I haven't a lot of problems with the rim brake, but disc are so much better on wet rides and if preserves the rim, so if the disc brake just helps with these settings it's fine by me)
Not break a bank!
Let's get to the components I chose!
Frameset
My first entry level road bike bought in 2015 is made of aluminium. I also bought a carbon gravel bike 1 year ago, but I found I don't really feel any big difference between the frame material (tires are a different topic though), but instead have more worries, like: correct torque settings, potential damages when the bike falls down, transporting it on the roof of a car, louder scratching/clicking sounds. Also, Carbon is hard (impossible?) to recycle if damaged, in comparison to aluminium, which can be reused more easily (make sure to watch GCN's video "10 Reasons To Consider Aluminium Over Carbon For Your Next Bike") So that's why I decided, that I will go back to aluminium for this bike!
I decided for a Mosso 710TCS Aluminium Frame (size 50 cm) (producer), with is produced in Taiwan and sold by a couple of dealers on Aliexpress. This brand seems to be relatively popular in Indonesia and Philippines, but there is almost no European dealer for that brand. Anyway, for a price of about 400 EUR (including Tax+Transport) you get great value: high quality aluminium frame, disc brakes, partly internal cable routing in the downtube and in the front fork front disc brake. The transport was via train to Europe and took the longest time of all parts, but still reasonable 70 days.
Now, after building up the bike, I can say it is a good bang for the bucket! It is a very light frameset (about 1.5 kg + 500g see photos below) looks great, and a headset and thru axles are also included.
The downtube features an internal cable routing, that was very easy to use, compared to the handlebar (more about that later). Just route the cables before installing the bottom bracket. The frame features all 3 necessary holes, two on the left, one on the right side. One with a larger diameter, so the brake cable can be routed with housing from handlebar to the brake.
The only downer for me, was the advertised clearance: "Fork can fit 35C terreno zero and Frame tired up to 40C terreno wet [sic]" is a little too optimistic in my opinion. The frame can not take 40C if you have a front derailleur (because of the clamp on adapter), and even the fork is extremely close when using 35C tires. I guess if you put some power on it will bend and touch the fork occasional.
If cutting the carbon fork, (and seatpost, if necessary) use at least a hand metal saw. Luckily, I also have a mitre-box (Gehrungslehre) to cut exactly at 90 degrees. Don't press the saw, just move with its own weight and slowly grind through the carbon. If you press the saw to hard, it might be possible that you bent the carbon. And measure!
Drivetrain
Groupset
Sensah Empire Pro 2x11 - Sensah already offers a 2x12 variant, but I don't care so much for a sprocket more as I care for a good supply of cassettes & chains.
After reading a couple of reviews, also watching TraceVelo's video about it, I feared the front derailleur might be a problem. But I have to say, the FD works really great for me (After initial fine tuning and stretching the cable)! It just has trim positions, so you have 4 steps for the 2 sprockets. So FD + left lever works great for me.
Also, the levers are comfortable enough for me, much better than the old 105er, but worse than the GRX one I rode. The reach of the levers is also adjustable, which is great for shorter fingers (as mine).
On the dark side, I found the rear derailleur + Brake/Lever to be subpar! Switching gears take a lot of power as you need to swing the lever about 30 degrees bevor anything happens. Compared to the GRX from my Gravel bike its day & night… I also tried switching the shifting cable, but no difference. But it might be also because of the internal cable routing in the handlebar, which might bent the cable into a too large angle. For the overall switching experience: It's just ok, If nicely tuned you can reach the gears cleanly, but I will wait a couple of hundred kms more to info.
Crankset
ZRace aluminium crankset is very good value but also not "alicheap" anymore.
Transmission ratio
So having a 11-34T cassette and a 50-34 crank allows a good range for me:
on 34-34 with a 35-622 tire I can go 2.19 m with one rotation, which is good for hard gradients
on 50-11 the top speed at 90/s is 53 km/h, at 110/s 65 km/h which is enough for me :)
Brake - Semi-hydraulic
I decided for the ZRace cable actuated hydraulic disc brakes. The brake performance is ok, but of course worse than a fully hydraulic GRX brake. It would guess it is very comparable to a normal rim brake, with enough power you can project enough braking performance, but you will still need to exercise some power in the hand. The plus side compared to a traditional rim brake is, that you can still keep the carbon rim without any headache and wet conditions are still much better to handle. On the downside though, the brake is occasionally rubbing on the disc which sometimes fixes itself after a slight brake, but not always. It's not a very big performance drop but annoying nevertheless.
For the brake cables, I decided to follow TraceVelo's recommendation and use some (locally sourced) Jagwire compression-less cables.
Wheelset
What can I say: carbon deep rims, in my case 55 mm deep, with apparent good quality for less than 400 EUR. No complains so far after 500 km, only next time I would probably opt for a brand-name free-wheel, as the Elite-"brand" is extremely loud, especially in the beginning. It comes in a great package, also with (uninstalled) rim tape and the wheel were almost perfectly true.
Variant I've ordered: 55 mm depth 28 mm + Clincher Tubeless + RD07 Center lock
Elite recommends two layers of rim tape to make sure it's sealed for a tubeless setup. I did it as recommended, but I think it makes the rim a little too large and thus in my case mounting the rear tire was a PITA (see below). Also, I never heard a PLONG sound when pumping the tires [only when deflating a heard an audible sound]. I guess that's one of the differences to a brand rim. But, consider the price, and as I've said.
Tubeless-Tires
For the tires, I decided not to experiment, as we have a great selection of European brands (Schwalbe, Continental, Vitorria, Michelin, etc.). Last year, I've discovered the Schwalbe G-One Speed during a Bike fair in Frankfurt, and I come to like the slick with a light profile.
Additionally, I've ordered 2 Schwalbe Long valves, As the pair I've ordered with Elite together were too short, and another Aliexpress brand were sloppy quality (the valve threads were broken and only with a lot of power could I move the Valve core). Also, I've sourced the Tubeless equipment (Stan's Notubes milk + syringe) from a national online dealer.
Installation: Setting one of the tires (rear) took a hell lot of power & time. Then, I could pump the tires with a normal stand pump, but I was a little skeptical, as there was no loud bang sound. I suspect, it is because of the 2 layers of rim tape. But after I filled in the milk, suddenly the air could not stay inside. But I managed it by pressing the tire with the other hand on in the valve area until the pump could find a grip. Now, after 500 km, the air is kept stable, and the tires only looses maybe 0.02-0.1 bar per day.
Cockpit
Handlebar - Grevil Vinci Aero
From the beginning, I wanted to make sure, that I can mount an Aerobar on the handlebar which is crucial for me for longer rides and also increases the average speed slightly. So, a lot of "Carbon aero handlebars" were no option. Luckily, I found the Grevil Vinci, which ticks all boxes: Aero-Bar with flat/huge bars, option to mount an aerobar and internal cable routing.
Handlebar tape: Initially I ordered a set by "Liteskin" from Aliexpress, but after installing I found it to be too smooth and not grippy enough, so I switched to a locally sourced Lizard Skins
Getting all 4 cables through, especially the brake cable took a long time for this handlebar. There are a couple of tricks on YouTube, but for me, it helped to first bring in metal cables and try to catch them with another cable that a bent like a hook.
Aerobar
Initially, I've ordered a set of cheapish Aliexpress aerobars, because my existing Profile would not fit with on the Grevil Vinci directly. But after a couple of miles with the Chinese brand, I found them to be too uncomfortable, so I instead decided to order a Riser kit by Profile, which in the end worked much better with the existing Profile Aerobar and now provides a comfy position for longer trips.
Problem with Grevil Vinci: I have to say, it was not easy to firmly mount the Aerobar on the Handlebar, because using just the recommended torque setting of 5-6 nm was extremely not enough, I could easily move the bar ends up and down, even rotate the whole handlebar in the stem. One reason could be, that the carbon surface in this area was quite "raw" and had some little spiky residuals there. In the end I fixed it by:
slighly grind the surface in the stem & aerobar area with a sand paper (metal), because initially there were some relatively large carbon residuals
using carbon paste
more and more increase torque, about 10-12 nm
Thus, maybe not recommended for everybody, until now works great for me & Profile Aerobar.
GPS mount
Having an Aerobar, I found this very simple and cheap Aerobar mount for all GPS. Even a Wahoo adapter was included in my case.
Stem
I ordered 2 different variations of the same stem: 17 degree 130 mm & 7 degree 90 mm to play around with bike fit. In the end, I've mounted the 7deg 90 mm. Both feel very light and stiff enough.
Seatpost & Saddle
The frame has a 31.6 mm seat post hole, so I couldn't use my existing seat posts. The EC90 has a good rating and no complains from me so far. I've only had to cut the seat post a couple of centimeters, because I couldn't lower it enough for me.
For trips with more than 100 km later this year, I will just mount my existing (Terry) "comfort" saddle. But that leaves me one saddle short, so I also ordered a cheap & good'nough EC90. It is relatively small and very light, but especially for its price a fine quality with a lot of community reviews and after some testing sufficient enough for shorter trips with 30-100 km.
Bottle cages
Swapped those very light carbon bottle cages from my other bike. They work great, just a tid too stiff, therefore also scratching the bottles. But better than losing the bottles IMO.
Tools
Tools, that I used, and had already before:
hand metal saw + mitre-box
general bike tools (Allen keys, wrench, torque wrench)
quick link (chain) tool for opening/closing
small metal wire (old brake cable) formed as a hook to reach cables
pliers (for pulling / stretching cables)
electric tape (var. colors) - for fixing stuff (sometimes needed), or if you rewrap the bar tape and need new tape.
stand pump (SKS Airworx), if buying a new one, maybe check for one with "boost" feature
Stuff, I bought from local bike shops
carbon paste
Syringe + Stan's milk
longer Tubeless Valves from Schwalbe (the one I've ordered with Aliexpress were too short)
Bought from Aliexpress:
Bottom bracket installation & removal tool - Cheap, but ok for the one-time job
Wire cutter: cheap and also ok for occasional usage
Thoughts & future upgrades
In total, I paid between 1500 - 1700 EUR. Most parts came in a very reasonable, sometimes extremely fast time and mostly undamaged (only valves). If you always stay with good rated, long sold items, you can achieve a very good quality. But of course, don't buy a Carbon Handlebar or Frame for too cheap money. Also compared to some prices for bike parts that you see here in Europe, and ever rising median bike prices which even dwarf motor bike or 2nd hand car prices,… I think it is fair to safe a couple of bucks when doing this consumerist hobby. In the end, most bike frames and parts are produced in China and Taiwan anyways, so a discussion about environmental aspects, and shipping stuff across the globe must take that into account to be a fair debate. I don't have any resentment against Chinese dealers in general, but of course, Aliexpress is a bazaar and you must make your research before buying stuff.
Would I buy it again? Partially!
I am very satisfied with:
Frameset
Crankset
Wheels
Seatpost, Stems
And, at this moment after about 500 km, can recommend all of those and would buy or consider them again!
Things I am ok with, but might experiment with or replace later:
Handlebar - drop a little too much, "Aero" style a little to big for my, stem/aerobar is hard to attach firmly (see above)
Fork or front tire - Too less clearance for my taste
Bottom Bracket - ZRace one is not smooth enough
Brake & Groupset - if you add the price for the crankset + groupset + brakes together, it is also about 400 EUR. So IF you can afford it, and IF it is available I now would rather suggest you take a genuine Shimano 105, Ultegra or GRX Groupset, which might be about 800 - 1.000 EUR, so for that moderate increase you get (probably) a much better performance, future compatibility and also reseller value for the bike. BUT at this moment, and presumably during 2022, a full groupset is still not available or affordable from any online shop here in Germany… If a GRX or 105 will be available (I guess 2023+), I might upgrade to the fully hydraulic disc later. But for now, I will keep Sensah + ZRace. On the other hand, if Sensah or another Chinese brand ever releases an electronic shifting groupset, I am inclined to give it a try! Because the whole ZRace + Sensah is "SRAM"-like, my old 4iii crank-arm power meters are not compatible. So maybe I will check if there is a solution there to get power information, either through the pedals (Favero Assioma) or crank arm (4iii or similar).
Things I was disappointed with and wouldn't buy again:
Cheapish Aerobar - Replaced with my Profile aerobar with riser kit
Bar tape "Liteskin" - too glitchy, difficult to wrap "beautifully" because a little stiff.
2 sets of Tubeless Valves - compared to the Schwalbe seem to be less good in comparison. One was too short, another had a broken thread and I could not remove the valve without destroying it.
In comparison to e.g. a Canyon Endurance/Rose Endurance I can now see, that their price point is very hard to breach as a retail or individual bike builder. So if you don't enjoy tinkering and optimizing your bike, I would rather suggest to look into their or Rose's inventory. On the other hand, the inventory of both at that price point is also mostly empty or thin during the last couple of months, so it might be not a viable option after all.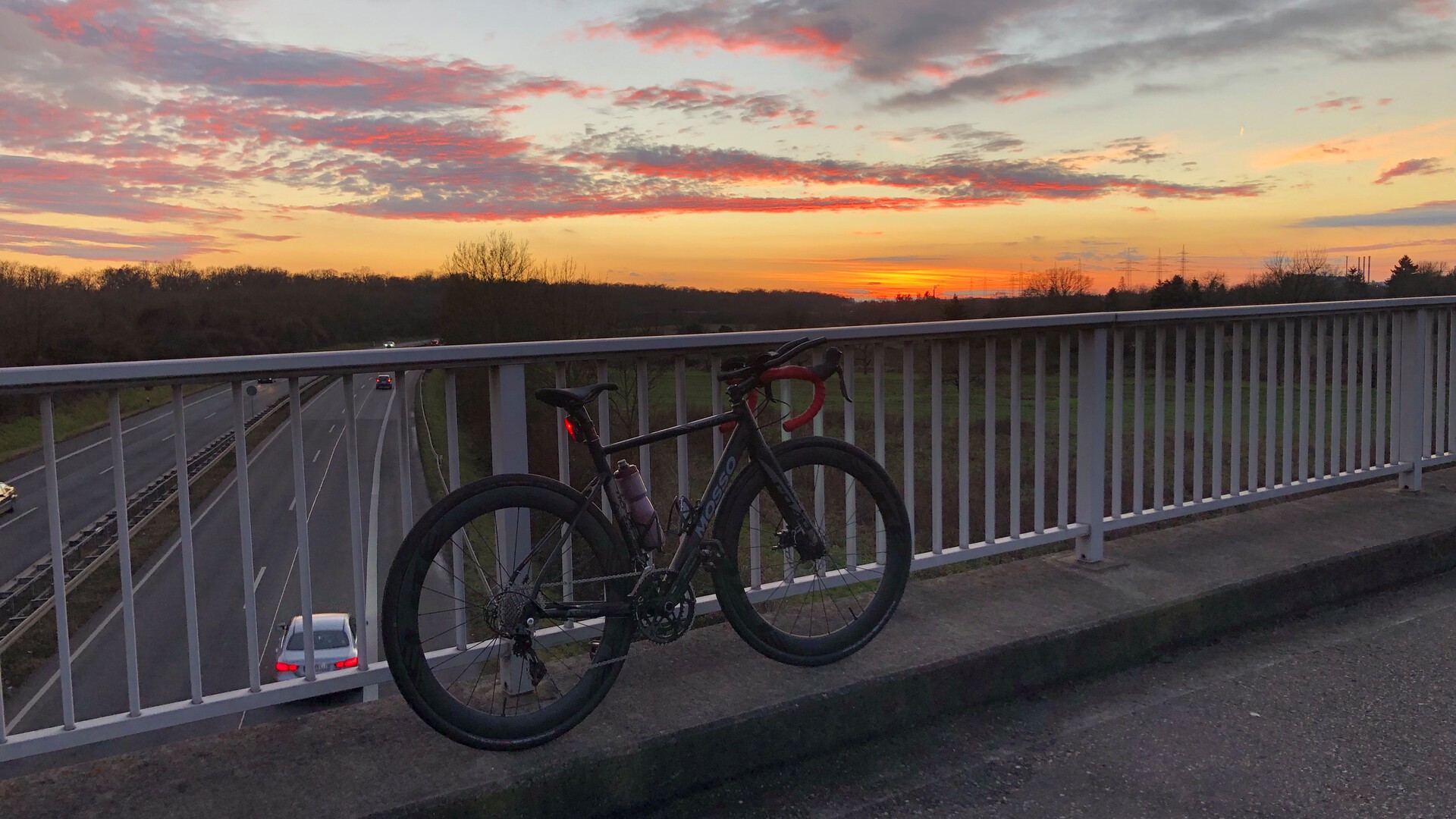 Component Table
| Component | Total price EUR (incl. deliv./tax) | Delivery Time (days) |
| --- | --- | --- |
| Frame - Mosso 710TCS 50 | 391.85 | 70 |
| Elite Wheels + TL Ventile | 336.90 | 42 |
| Groupset | 174.72 | 6 |
| Crankset | 130.59 | 9 |
| Handlebar Grevil Vinci | 71.68 | 14 |
| Brake | 68.85 | 15 |
| Various cables & spouts | 33.45 | 14 |
| Stems | 32.57 | 8 |
| Seatpost | 24.54 | 14 |
| Headset | 12.32 | 9 |
| Spacer+TopCap | 11.65 | 15 |
| Chainstay protect | 5.19 | 16 |
| Saddle EC90 | 19.18 | 14 |
| Disc Rotor Adapter | 14.64 | 17 |
| TL Valves 80 mm | 11.73 | 17 |
| Clamp On FD Adapter | 3.79 | 10 |
| Pressfit tool | 16.49 | 8 |
| Pressfit removal tool | 12.32 | 10 |
Stuff, which I bought from German dealers (Bike24, fahrrad.de, bike-components.de are my favorites):
| | |
| --- | --- |
| Tire: Schwalbe G-One Speed 35 cm | 92.00 |
| Profile Design Aerobar Riser | 37.00 |
| Lizard Skins bar tape | 30.00 |
| Jagwire Pro brake cable set | 25.00 |
| Schwalbe Tubless valves 60mm (2-set) | 19.00 |
| Stan's milk | 14.50 |
| Stan's NoTubes syringe | 10.00 |
| Procraft Spacer Bell Sport | 7.00 |
Stuff, which I had before:
| | |
| --- | --- |
| Saddle: Terry Ateria | ~50.00 |
| Profile Design Legacy II | ~65.00 |
| Pedals, various SPD/flat-combos | 20-50.00 |
| Carbon Bottle cages | 20.00 |